LUXURY TRAVEL LAPLAND
the destination
Lapland is a vast region that stretches over the northern parts of Finland (about one third of its total surface area), Norway, Sweden and the Kola Peninsula in Russia. It is as big as Belgium, Switzerland and The Netherlands all put together and is inhabited by the Sámi people.
As most of this region lies above the Arctic Circle, the differences in daylight hours between Summer and Winter are extreme. Depending on the season, you can experience either the Midnight Sun or the Northern Lights. Indeed, during Summer (mid-May to July), the sun doesn't set. In contrast, during Winter, daylight is limited to about four hours, which creates perfect conditions to view the Aurora Borealis, especially between November and March.
The Northern Lights, this region's most famous attraction, are a truly unique phenomenon that have captivated mankind for millennia. Scientifically speaking, this event takes place when electrically charged particles from the sun collide in the Earth's atmosphere: the colour of the lights depends on kind of gas particles involved. Mystically speaking, the Sámi people believed these lights were the souls of the dead and you weren't supposed to dance or sing for fear they would feel disrespected and would carry you off to the afterlife. The Vikings, for their part, believed the lights were the Valkyries taking fallen soldiers to meet Odin, their Chief God.
This fascinating snow-covered playground is filled with arctic adventures and magical winter landscapes waiting to be discovered.
Norwegian Lapland is a rugged wilderness region that offers amazing activities on land as well as on the fjords around such as Northern Lights watching, dog sledding and Whale Watching. Swedish Lapland, home of the indigenous Sámi people, is so sparsely populated that it gives visitors a chance to experience raw nature at its finest and ancient boreal forests; it is a region where reindeer roam free and where you will find some of Scandinavia's most unique attractions such as the famous Icehotel. Finnish Lapland, the official home of Santa, is as close as it gets to a winter wonderland: there are as many reindeer as there are of people in the province and if you look at the streets of Rovaniemi from the sky, they appear to be shaped like reindeer antlers. The landscapes are simply majestic and offer unparalleled opportunities for trekking; experience the Northern Lights, go snowmobiling or reindeer sledding and experience a Sámi cultural activity.
See More
travel packages
The Lights of the North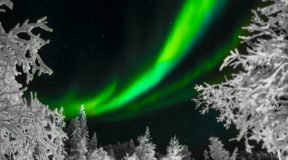 Lappish Magic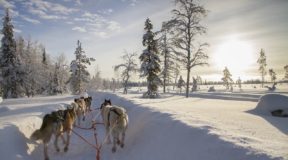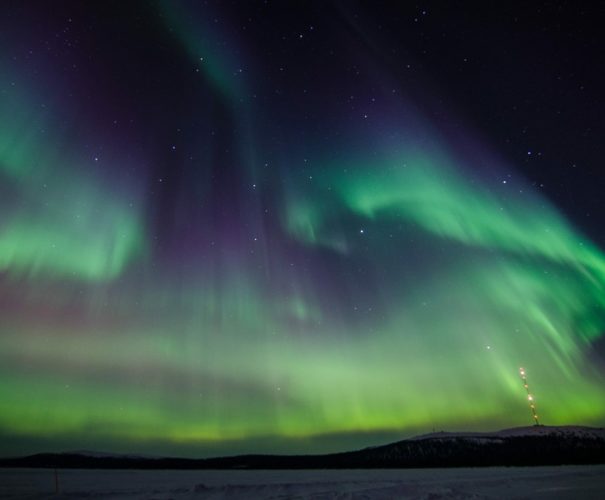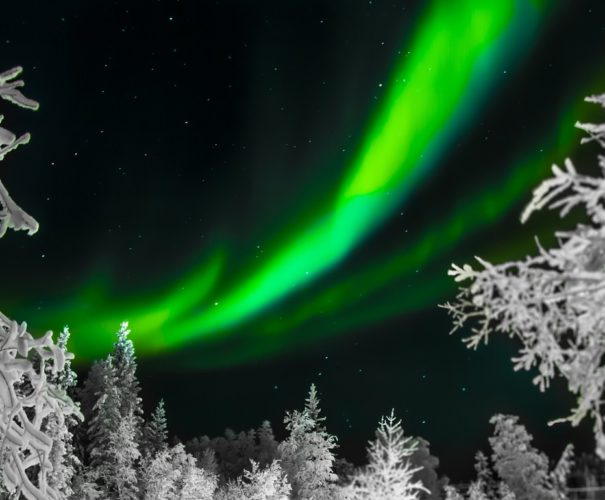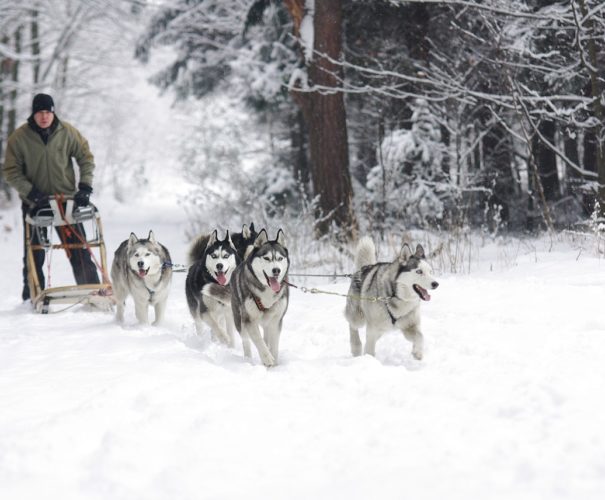 The Lights of the North
best time to travel :
December to March
duration :
5 days / 4 nights
Price :
From CHF 5'500 for 2 people
Type of Journey :
Northern Lights
Your Sample Journey
jour 01
ARRIVAL
Arrival at Ivalo, welcome and transfer to your hotel in the heart of the Finnish Lapland. Rest of the day at leisure.
jour 02
A DAY FULL OF ADVENTURES - PART I
Today, you'll explore the surrounding Far North nature in the company of Siberian huskies, who will take you through a forest of snowy pines. Afterwards, you'll enjoy an excursion in search of the northern lights from the warm comfort of a car.
jour 03
A DAY FULL OF ADVENTURES - PART II
You will start your day by feeding the reindeers, followed by a sleigh ride. Later, you'll continue your adventure with a snowshoe hike through the pristine landscape.
jour 04
A DAY FULL OF ADVENTURES - PART III
This morning, head out in the Lappish nature by snowmobile, and end your day with a sledging experience, accompanied by Siberian huskies, in search of the northern lights under the starry night sky.
jour 05
DEPARTURE
Day at leisure before your departure. Transfer to Ivalo airport for your flight back home.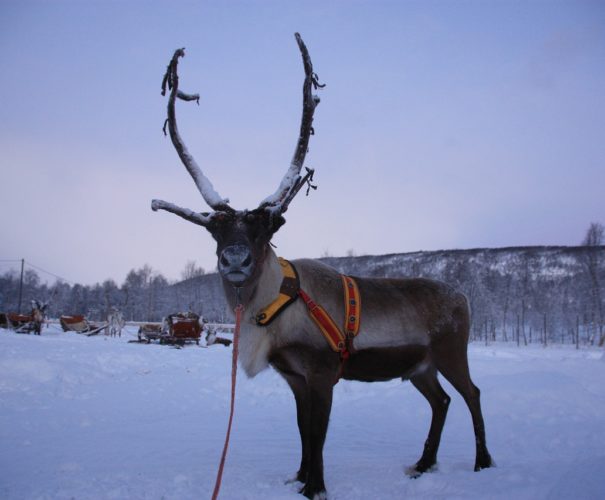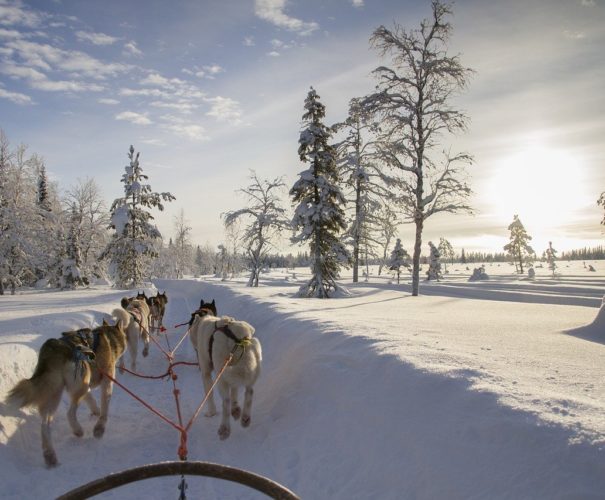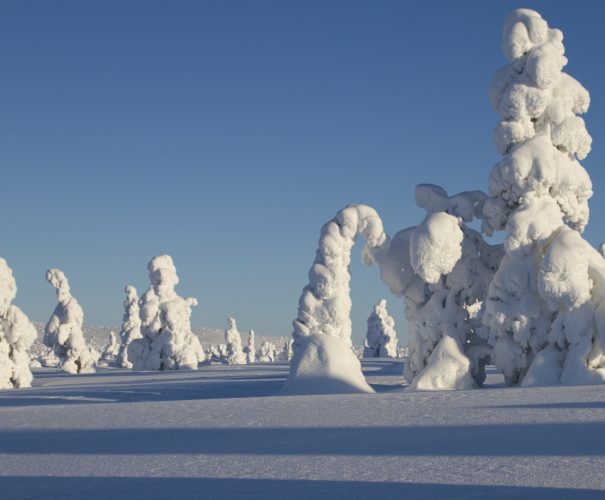 Lappish Magic
best time to travel :
September to March
duration :
8 days / 7 nights
price :
Starts at CHF 260'000 for 10-12 people
Type of Journey :
Northern Lights
Your Sample Journey
jour 01
ARRIVAL IN LEVI
Arrival in Levi airport where you will meet and greet your private guide. Enjoy lunch in Levi, then transfer to your chalet where you will stay for 3 nights. In the evening, you will have a welcome dinner at the chalet.
jour 02
SILENCE, PURENESS AND UNIQUE NATURAL ENVIRONMENTS
This morning you will be brought to Levi centre for some downhill skiing. After lunch, go visit a Shaman who will tell you about the magical atmosphere of Lapland. After this, return to the chalet and have dinner.
jour 03
AN ADRENALINE-FILLED DAY
In the morning, go on an ice karting experience on the snowy tracks. After lunch, visit the Lainio Snow Village where you will find a unique and magical world made from ice and snow. Go back to have dinner at the chalet.
jour 04
ON YOUR WAY TO ROVANIEMI
Today, you will transfer to Rovaniemi and check-in your new lodge for 4 nights. Rest of the day at leisure.
jour 05
LOOKING FOR SANTA
This morning, head out on a snowmobiling experience in the wilderness. Later, enjoy a reindeer sledding adventure and stop for lunch at a Lappish kota. This afternoon meet with Santa Claus in his hidden hut. Go back to the lodge in the evening where dinner will be ready for you.
jour 06
THE LIGHTS OF THE NORTH
After breakfast at the lodge, you will visit a local handicraft workshop in true Lappish settings. Later, embark on a Northern Lights snowmobiling adventure where your guide will take you to his hidden place to watch the dancing lights in the sky.
jour 07
HUSKIES AND SLEIGH RIDES
In the morning, you will visit a husky farm and hop on a husky sleigh ride. Enjoy a lunch in a Lappish hut. Later, go Northern Lights hunting by snowshoes.
jour 08
DEPARTURE
Enjoy your last breakfast at the lodge. Once you checked-out, you will be transferred to Rovaniemi airport for your flight back home.
See More
Destinations/Experiences similaires